Merge Trello Boards
Use the Projects by Placker Power-Up in Trello to manage work across boards
Add to Trello
Start a 15 day free Trial today, no credit card required!
Get the full picture across multiple boards.
To manage work effectively, you need to be able to oversee and manage your work across boards.

The projects by Placker Power-Up in Trello allows you to see multiple boards in one overview in Placker and combine them into one (virtual) board. Use this view to plan all cards in one Gantt chart or generate a dashboard across all of your boards.
‍
Use this Power-Up to keep everyone focused, save time and avoid mistakes.

Simply open multiple boards in a single page
When you need to manage work across boards, you sometimes need to have multiple boards open in the same view.
In Placker you can open multiple boards in the same view so you can easily understand the status of the different boards and update the cards directly on their boards.

We made it simple to move or copy cards between boards or create mirrors across boards simply by dragging and dropping the cards.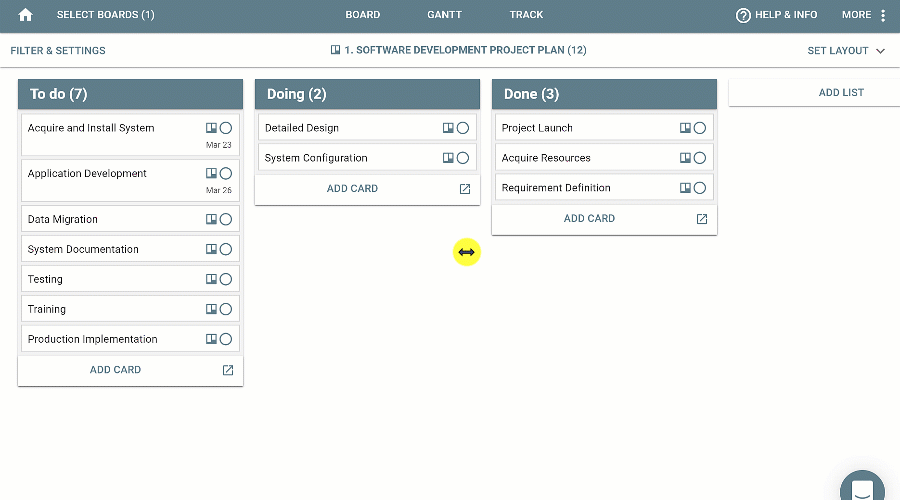 Generate a merged board in seconds
Work is usually distributed across multiple boards. We made it simple to get the overview of your cards across boards by creating a merged (or combined) view of your cards.
Now you can manage your cards as if they were on a single board. Any updates made to the cards will be updated on their original board (because the merged board is a virtual board in Placker).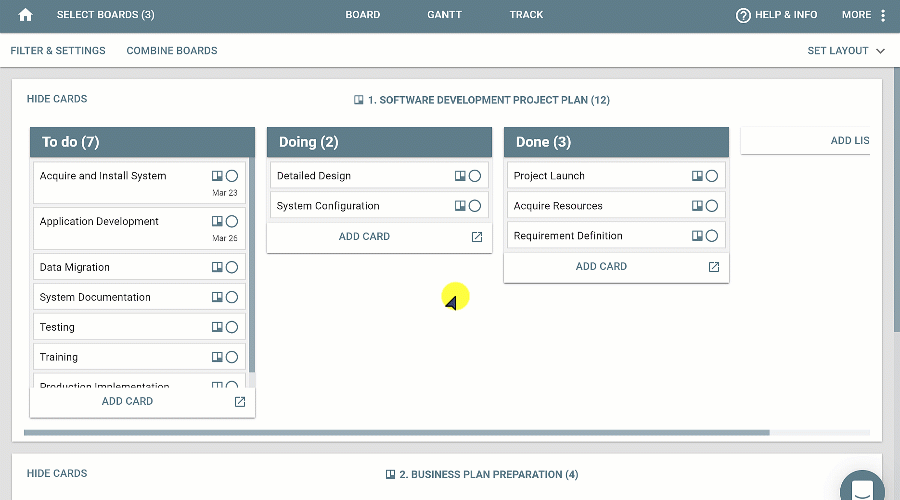 Visualize and manage your workload effectively
When cards are distributed across boards, cards need to be planned across boards to avoid bottlenecks.
In Placker you can view the merged boards in a single Gantt chart and generate a resource plan so you can spot planning bottlenecks up front and fix the issues proactively.

Or you can use the board planners where cards are shown based on their due date so you can easily spot days, weeks or months that have too many cards allocated, and resolve the conflicts directly from Placker.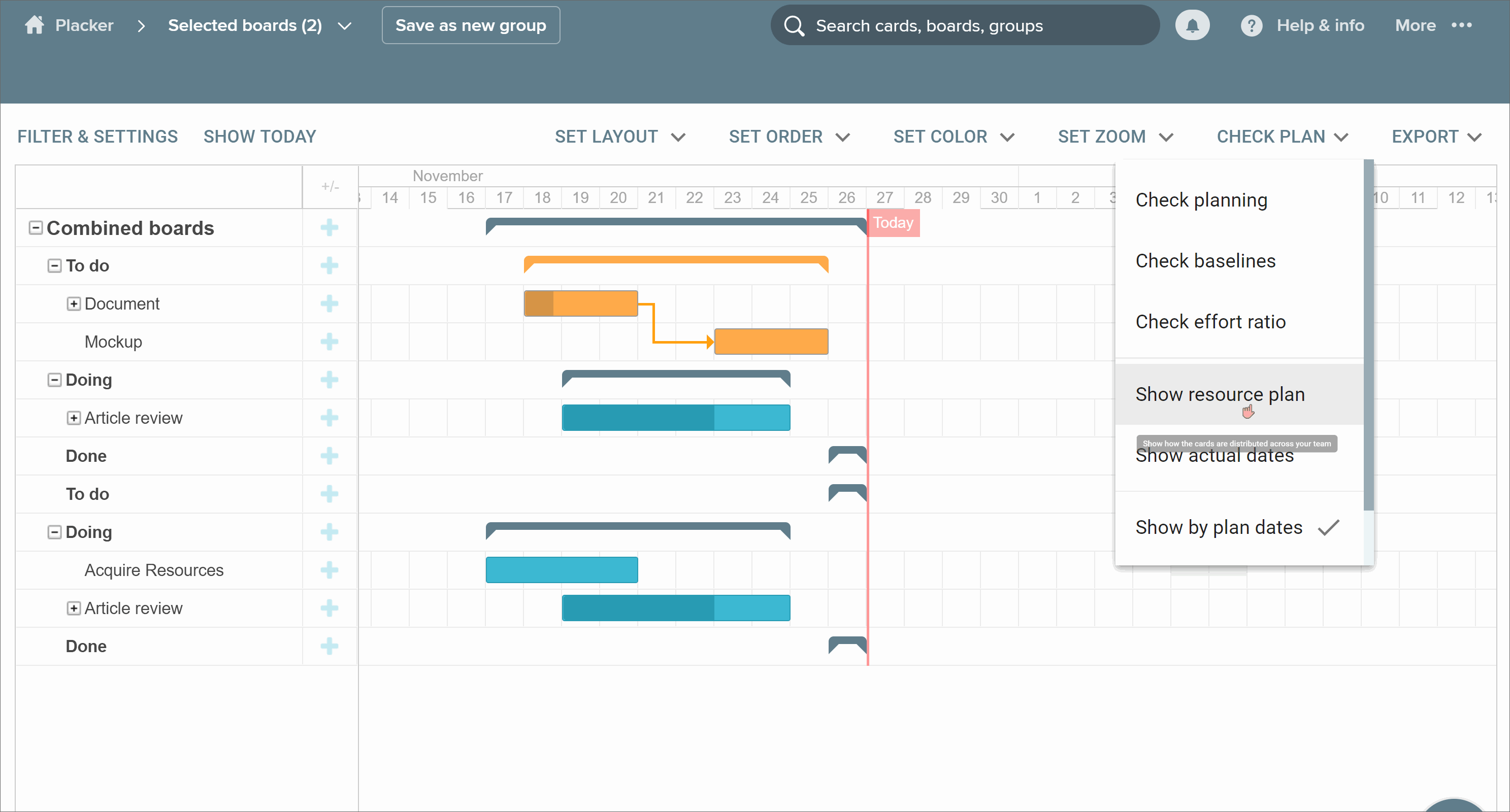 Keep everyone focused by using dashboards
Create a dashboard to understand the status of your cards across boards, find out which cards are overdue or when new cards are created.
Build your dashboard from a rich library of widgets, we support widgets for any type of process or project. Use dashboard to understand and report on your status, and keep everyone on track.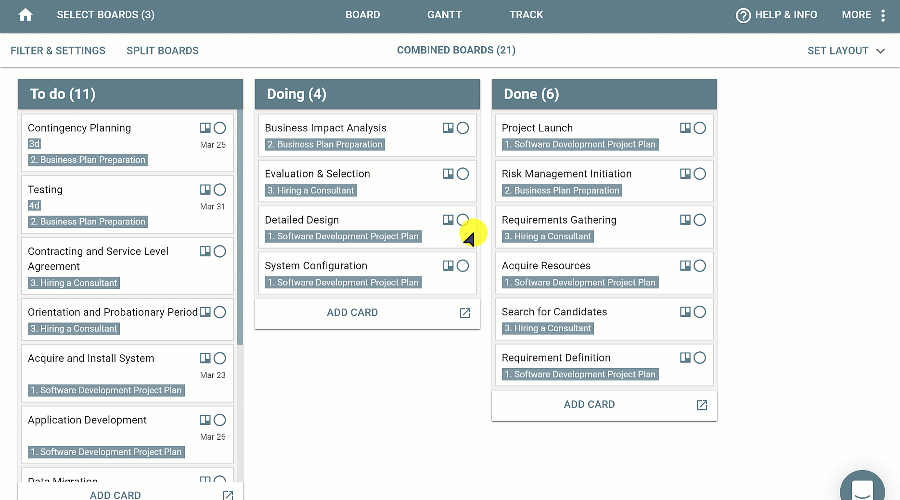 Get started in under 5 minutes

1. Add the Power-Up to your Trello board
Start a 15 day free trial to get started with Placker and import your boards.
2. Import your Trello board(s) into Placker
Select and import the boards from Trello into Placker
3. Merge boards in Placker
Go to Placker select the boards and combine them into one view
Is the Trello projects by Placker Power-Up for me?
This Power-Up will help whenever multiple boards are involved, for example:
✅ When you have work assigned to you on multiple boards, you can view all your cards in one board..
✅ When you work with clients who each have a board, you can create a dashboard to keep focussed on meeting your agreements.
✅ When you work with multiple project boards and need to manage your team workload, we give you the tools to do so.
✅ When you need an accurate and real time report of your work.
✅ When you need to generate correct and up to date status reports to your stakeholders.
✅ When your team members are struggling to understand their tasks and priorities across boards.
✅ When you work with many suppliers and need to understand their status across boards.
How will the projects by Placker Power-Up benefit you?
This Power-Up will help you to save time, avoid mistakes and get your work done.
✅ Save time in syncing and communicating work with your team members.
✅ Save time in understanding the work across boards, opening multiple boards in different tabs and try to compare the cards.
✅ Stay focussed by viewing all cards across boards in one single board layout.
✅ Stay focussed by using dashboards that show you the cards that are late, due today or need your attention.
✅ Stop wasting time on incorrect tasks or wrong priorities by keeping everyone informed and on the same page.
✅ Improve reporting to your team and other stakeholders by giving them clear status reports based on accurate and real time information.
✅ Switch between different views as you need to, zoom out to your aggregated view or in to a detailed view as you need to.
Trusted by thousands managing millions of tasks